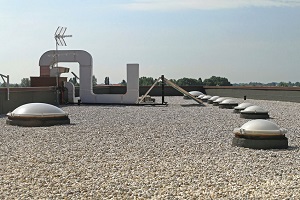 Because most of the commercial roofing systems are either flat or low-sloped, this can limit the type of material which can be used. Thus, we can speak of BUR or built-up roofing membrane, metal roofing, thermoset roof membrane, modified bitumen roofing, thermoplastic roof membrane and green roofing.
Built-up roofing membrane is built with several layers. This is a flexible type of roof, in the sense that you can use several numbers of layers, depending on the amount of money you are willing to invest and also on the requirements you need to comply with.
Metal roofing systems are quite popular because there is a huge variety of such materials to choose from. Metal roofs can refer to aluminum, galvanized steel, copper, metal tile sheets, tin, lead or stone-coated steel.
Because metal is prone to rusting, it is necessary to treat this type of roof with special solutions. At the same time, metal roofs are fire-resistant and can last for a long time.
Modified bitumen may be the perfect choice in case there is a lot of action on your commercial roof. Thermoset or EPDM roofing system is durable, easy to install and maintain. Green roofs are highly popular these days, offering sustainable opportunities for businesses and not only.  Commercial roofers like Mile High Roofing Services can help you decide what type of roofing system is best for your building and location.