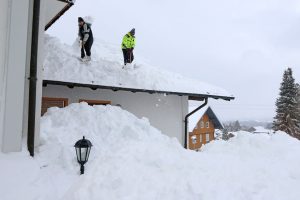 It is the weight of the snow that helps you decide whether or not you may need to remove it from your rooftop. The thing is wet snow is a lot heavier than fluffy snow.
You also need to know whether your roof is built according to roofing codes or not. In case your roofing system is in accordance with local requirements and codes, it should support a certain amount of snow, no matter if wet or dry.
It is also easy to tell wet snow from dry snow, simply by using a shovel. At the same time, weather forecast should be able to inform you about any heavy snowfalls that may occur during that particular time.
Doors can help you determine if there was any kind of roof damage done because of heavy snow loads. At any rate, the tips on removing snow from your roof may also include doing it from the ground level.
There are certain tools which may enable you to do that, such as snow rakes. They work best on fresh snow and are somewhat affordable. Other solutions may refer to releasing snow from underneath.
No matter which method of snow removal you may choose, you need to know that the purpose is not to get rid of all the snow, but rather on the excessive load of it.  Many professional roofers like https://mhpsllc.com can be hired to take care of getting snow off your roof.