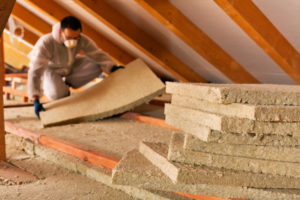 Insulation plays a very important role for the well-functioning and longevity of your Thornton CO roofing system. So when choosing the materials for your roof, you certainly need to consider the insulation aspect as well.
The main purpose of a roof is to keep harsh weather away from a building, in order to protect its inhabitants. This also includes protecting the interior of the building from humidity, outside temperatures and winds.
In this respect, a good idea is to use roofing materials from a Thornton roofing company which have insulating properties. Thermal insulation is essential for ensuring the energy-efficiency of a building. This helps the owner save money on utility costs. In general, the carbon footprint of an insulated building is greatly diminished.
Insulation can ensure the fact that you are using the natural resources available to the maximum. Insulators have a structure which resembles wool, and which traps small pockets of air. So we could mention here hemp, cotton, wooden doors, hardboard, and so on. At the same time, there can be foam spray solutions, which are typically polyurethane-based. Sealants can also help block draughts from cracks or gaps in the building's structure. Apart from roof insulation, there can be door insulation or floor and window insulation.