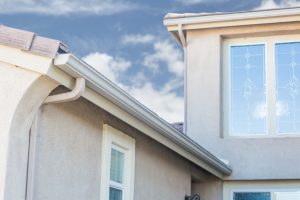 Home improvement projects for your home are not something most homeowners are happy to do. But all homeowners need to do this kind of work from time to time, in order to keep their homes in a good state for as long as possible.
In this respect, when you get a new roof, you may consider getting new gutters also. This can be quite convenient, because you do not need to call the same experienced Thornton roofing company to come out twice. Most contractors can do the two jobs concomitantly or they can arrange so as to finish the two jobs as fast as possible.
It may be that your gutters are in a poor state, and in that case, replacing them becomes mandatory. There may be certain areas on your gutters where you have noticed leaks, separations or dents. At the same time, you may have noticed that water is overflowing them on a regular basis.
However, if your gutters are in a good shape, it may be better to leave them that way, instead of replacing them. In case a contractor suggests that you should also replace your gutters when you get a new roof, the best thing to do is ask them the exact problems that your current gutters have.