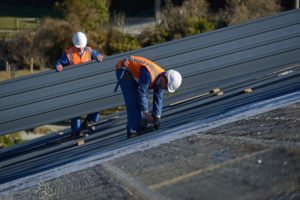 Each commercial roofing product has its own advantages and disadvantages. Therefore, it is best to weigh all the options before making your purchase of Thornton roof repair products and materials. The most important factors include weather fluctuations, durability and energy efficiency of a roof.
The most popular materials for commercial roofs include metal, BUR (built-up roofing membrane), thermoplastic PVC, TPO roofing membrane, shingle roofing, green roofing, and so on.
Metal roofs are very popular because they have a very long lifespan, namely of 40 to 60 years. Corrugated steel, tin, zinc or aluminum are yet some other great options of metal roofing available on the market. Metal roofs can have a well-finished appearance and better fire resistance than many other types of roofing systems.
Because metal roofs are prone to corrosion, most metal roofs are provided with special protective layers. Such layers can keep them safe from pollution, moisture or other weather-related factors.
Built-up roofing membrane can last for about 20 years, with proper care and maintenance, of course. At the same time, this type of roofing system can resist UV rays and can be coated to reflect heat.
Green roofs refer to waterproof membranes which are covered entirely with soil and plants. They are becoming increasingly popular due to their great value for the environment.